Cloud-Based Solutions Blog
Cloud solutions allow businesses to deploy information technology that supports mission-critical processes at a lower price point and with more agility than traditional offerings. At Stratus Innovations Group, we have decades of experience in cloud computing and customizing cloud-based solutions that help businesses increase revenue and decrease expenses.
On this blog, we'll share our knowledge and experience with you to help you make the best possible business decisions — especially when it comes to information technology. And if you'd like to talk to someone at Stratus Innovations Group about how we can build a custom cloud solution for your organization, just fill out the form below and we'll get back to you right away.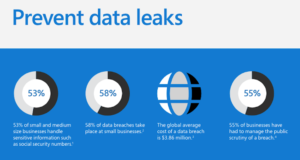 The global average cost of a data breach is $3.6 million. Is your company prepared to deal with the fallout from a cyberattack?
With our security solutions from Microsoft 365 Business, you can take advantage of the latest data-loss protection policies to ensure that your sensitive data is always protected. With a simple, cost-effective security solution that's easy to use, you can't go wrong.
Contact our team at Stratus Innovations Group to learn how you can prevent data leaks with our #Microsoft365Business solutions.
Contact Stratus Innovations Group Today!
Our singular focus and purpose is to help your business be more profitable and efficient. Let us help you bring the power of the cloud to your organization!
8000 Walton Parkway
Suite 200 New Albany, OH 43054