The Unique Challenges of Smart Manufacturing (And How to Overcome Them)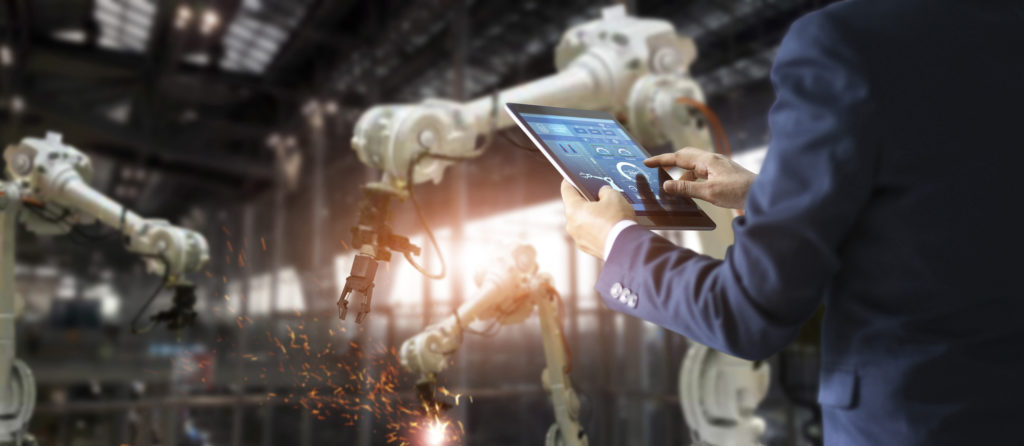 Smart manufacturing and the industrial internet of things (IoT) can revolutionize your factory operations. While there are challenges associated with implementing industrial IoT (IIoT), the experts at Stratus Innovations know that the benefits outweigh the risks.
Keep reading to learn how we can facilitate your entry into the world of smart manufacturing.
The Benefits of Smart Manufacturing and Industrial IoT
Traditional manufacturing facilities pose a variety of challenges. Many facilities rely on aging equipment that is difficult and costly to repair. Employees must monitor performance and make decisions based on intuition, guesswork, and experience, and they typically lack data that can help them make these tough calls. Smart manufacturing solutions can reduce these issues and create new efficiencies within your facilities.
RELATED CASE STUDY: Azure-Based Global Internet of Things Deployment
When you implement smart manufacturing solutions, sensors track operations and build datasets that can help you anticipate your maintenance needs, identify inefficiencies, and improve your operations.
With IIoT, you can:
Replace manual processes with data-driven, automated systems
Monitor your equipment's performance and create a predictive maintenance strategy
Avoid losses and drops in productivity due to operational inefficiencies and maintenance needs
Experiment on virtual equipment
Track assets and products at every step of the manufacturing process and supply chain
While many companies realize the value of this information, they also have serious concerns about implementing industrial IoT solutions.
Understanding Common Concerns About Industrial IoT
While many leadership teams understand the potential of smart manufacturing, they also know these solutions can come with risks. Many companies struggle with the initial cost of IIoT solutions and worry that ROI promises are speculative.
RELATED VIDEO: Intelligent Factory Solution Offering
Some of the most common IoT concerns focus on the following areas:
Most of our clients have questions about the security of their industrial IoT solutions. A data or security breach can be catastrophic, and your organization must take reasonable precautions to protect your industrial data and infrastructure.
Thankfully, Stratus Innovations Group's IoT solutions are part of the Microsoft Azure ecosystem, which offers robust security systems. We also provide tools that monitor your servers' function, protect your data, and track your equipment's productivity and operations.
Does your team include data analysts and IT experts? As you transition to smart manufacturing, you'll need people who can manage your IoT systems, ensure their proper operation, and interpret their data. For many organizations, this means hiring new talent or providing additional training to their existing staff.
While you'll need to assess your team's IoT capabilities and potentially acquire new skill sets, you should also evaluate the usability of each IoT solution's interface and select a system that your team can implement and use.
At Stratus Innovations Group, we focus on our clients' needs and their success. Unlike some smart manufacturing providers, we don't simply deploy a solution and disappear. Instead, we assist our clients with training, implementation, and IoT strategy. If you'd like to learn more about our collaborative and client-focused approach to IoT solutions and implementation, get in touch with us today.
Smart manufacturing solutions can provide you with overwhelming amounts of data. However, many companies aren't sure how to compile, store, contextualize, and apply all this information. This problem creates data islands that can reduce your industrial IoT solution's effectiveness and efficiency.
Before you select a smart manufacturing partner or solution, you should build a comprehensive data strategy that reduces the likelihood of silos or islands, addresses data governance, and creates systems for data interpretation and application.
RELATED CASE STUDY: Affinity Apparel Implements Office 365 and Dynamics AX in Windows Azure IaaS Deployment
If you rely on legacy infrastructure, you might struggle to integrate it with cloud-based IoT solutions. While we can transition some legacy systems and equipment, it's not always advisable. Before you implement a solution, work with your IT partner to assess the viability of your current systems and infrastructure.
Stratus Innovations Group Can Help You Overcome Your Smart Manufacturing Challenges
As your business undergoes a digital transformation, you need a team of client-focused experts by your side. Stratus Innovations Group is made up of elite cloud computing experts and architects. We help customize and roll out practical and effective IoT solutions for manufacturers, healthcare organizations, and other enterprises.
To learn more about our team and find out how we can help your business, contact us by filling out our online contact form or calling us at 844-561-6721.